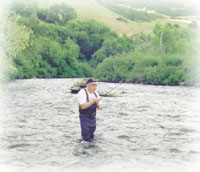 and let us show you Utah's famous Provo River. This unforgettable fishery is divided into three sections, all with different river habitat, and all with spectacular trout fishing.
Upper Provo River Fishing
Wading the upper stretch provides great views of Utah's rugged Uintah Mountain Range. The middle section of the Provo River runs between Jordanelle Reservoir and Deer Creek Reservoir. This remarkable tailwater meanders through the peaceful Heber Valley, with fantastic views of both the Wasatch and Uintah Mountain Ranges to supplement the very aggressive and sometimes very large browns and rainbows. The "Middle", as it is called by locals, supports a wide variety of insect hatches. The spring is awesome, with good Blue-Winged Olive and Stonefly hatches. Green Drakes and Pale Morning Duns arrive in early summer, and the evening Caddis hatches are legendary. Blue-Winged Olives hatch again in the fall, and streamer fishing can produce numerous monster trout. Midges hatch most of the year, and provide trout with food for much of the winter.Upper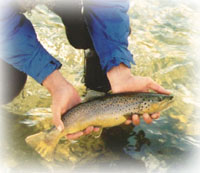 Lower Provo River Fishing
The blue-ribbon lower section of the Provo River runs from Deer Creek Reservoir down scenic Provo Canyon and Sundance Resort to Utah Lake. This is a premier tailwater that is home to a seemingly endless number of 14-18" browns and rainbows. Larger fish are common, and the "Lower" boasts numerous fish that qualify as hogs. This section has been a fly-fishing paradise for many years. Like the Middle, the Lower boasts a historic Blue-Winged Olive hatch in the spring. Other insects and crustaceans include Golden Stones, Pale Morning Duns, Caddis, Scuds, Sowbugs, and Midges. This is the section we "cut our teeth" on, and we feel that it is still one of the best kept secrets in the West. Come fly fish with us on this gem of a river.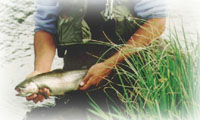 Other Northern Utah Trout Fishing Water
There are literally hundreds of trout filled waters in Northern Utah. If you want to get away from it all, we can take you to spots where you will be alone, taking in the beauty of Utah's rugged landscape. Imagine, casting a flyrod on a small mountain stream to native Bearlake Cutthroats, or stalking spooky Brook Trout that radiate their beautiful colors in the summer sun. Fly cast on some of our favorites, like the Strawberry River or Current Creek. They are just a couple of the many waters in the Duchesne River Drainage that can provide an experience that is the essence of trout fishing; beautiful fish in beautiful country. We are still learning some of these waters ourselves, so join us in the quest for hidden waters and hidden trout.